Goolgames.com >
Boys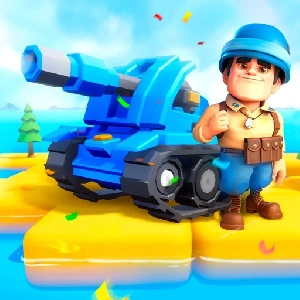 Top War: Battle Game
100%
Top War: Battle Game offers a captivating and free strategic tower defense experience. Upgrade buildings, train soldiers, and conquer vast lands!
×
Related Games
ALL
Top War: Battle Game
About Top War: Battle Game
Top War: Battle Game is a strategic tower defense game that is worth playing for free. You can upgrade buildings and soldiers, use higher-level buildings to train higher-level soldiers, and occupy more land! There are plenty of levels in the game, which is relatively simple in the early stage, and more and more difficult in the later stage. Come and challenge it!
Gameplay of Top War: Battle Game
Top War: Battle Game is a must-play strategic tower defense game that provides an engaging and free gaming experience. In this game, you'll have the opportunity to enhance your strategic skills by upgrading both buildings and soldiers. Utilize higher-level buildings to train more powerful soldiers, allowing you to conquer and expand your dominion. The game boasts numerous levels, with early stages being relatively simple and later stages offering increasing levels of difficulty. With evolving challenges, Top War promises hours of strategic gameplay for players looking to test their abilities. Dive into the game and embark on a journey of conquest and strategy!
Features of Top War: Battle Game
Tower Defense Strategy: Engage in strategic tower defense gameplay where your decisions shape your destiny.
Building Upgrades: Enhance your empire by upgrading buildings, unlocking advanced capabilities.
Soldier Training: Recruit and train soldiers of varying levels to defend and conquer lands.
Progressive Difficulty: Challenge yourself with progressively more demanding levels as you advance.
Expansive Gameplay: Conquer and expand your territory in a dynamic tower defense setting.
Play Top War: Battle Game online for free in Chrome, Edge and modern Web Browsers.
Tips and Strategies for Top War: Battle Game
Balance building upgrades and soldier training to ensure a formidable defense.
Focus on resource management to maintain a strong and growing empire.
Develop a well-thought-out strategy to navigate the increasing difficulties in later stages.
Keep an eye on your expanding territory and fortify defenses as needed.
Formulate alliances and cooperate with other players for mutual benefits and strategic advantages.
In Summary
Top War: Battle Game is a captivating strategic tower defense game that challenges players to conquer and defend lands through building upgrades and tactical soldier training. Play Top War: Battle Game online on Chrome, Edge or other modern browsers and enjoy the fun.

GameComets brings together the most popular games, including the highly addictive Top War: Battle Game and a host of other trending free online games that promise to take your gaming journey to the next level.

Our carefully curated collection of games is designed to promote relaxation, and playing Top War: Battle Game online on our platform is the perfect way to de-stress and improve your mental well-being.
Platforms
Experience the thrill of the popular game Top War: Battle Game like never before with our free online version! Whether you're on a Chromebook, laptop, desktop or PC running Windows, you can now enjoy this game to your heart's content.

At our platform, we understand the importance of seamless gameplay. That's why we tested Top War: Battle Game game extensively on Chrome, Edge, and Firefox, and made sure it works faultlessly across all of today's most popular web browsers. You may play this game anytime you choose, from any location.
How to Play Top War: Battle Game
Begin by managing your empire, upgrading buildings, and training soldiers.
Carefully plan your strategic approach to balance defense and expansion.
Conquer territory, participate in alliances, and overcome progressively challenging levels.
Master the art of strategy and embark on an epic conquest in Top War: Battle Game.